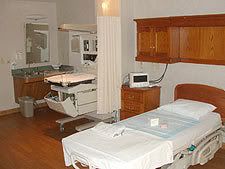 I took a picture of Abby as they wheeled her out of the birthing room and down to the NICU. She had a little pink hat on.
We began the ritual of calling family and friends. I remember calling my parents and telling them simply, "7 pounds 4 ounces". They never told us her length. They were shocked. Not by the weight, but by how quickly things happened. I heard them tell AJ that his new baby sister was here. "I am happy!", he replied.
My Mom asked if everything was alright. I said yes, but that they were taking her to the NICU to make sure her lungs were OK because of the meconium. We called my in-laws, sister-in-law, work. We gave everyone the good news. I knew that the news likely wasn't all good.
And so we waited. But we weren't alone. Two nurses -- actually an RN and a student nurse -- were with us. They came in and out of the room, but they were there. They were there because they knew. They clearly knew. One of them went down to the gift shop and bought Abby a little stuffed animal. One that wouldn't leave her side for six weeks.
I tried to put it out of my mind. I knew it couldn't
really
by true. I tried to read, but I couldn't. I looked at the pictures I took of her. I focused on the one where she had the pink hat on. I was overreacting. Look at her. No way.
Meg talked on the phone. I paced. I looked out the window. It was overcast. I looked at the traffic on the road. At the cars pulling in and out of the hospital parking lot. I looked at the pictures again
.
I became more convinced.
That it was true.
To be continued.